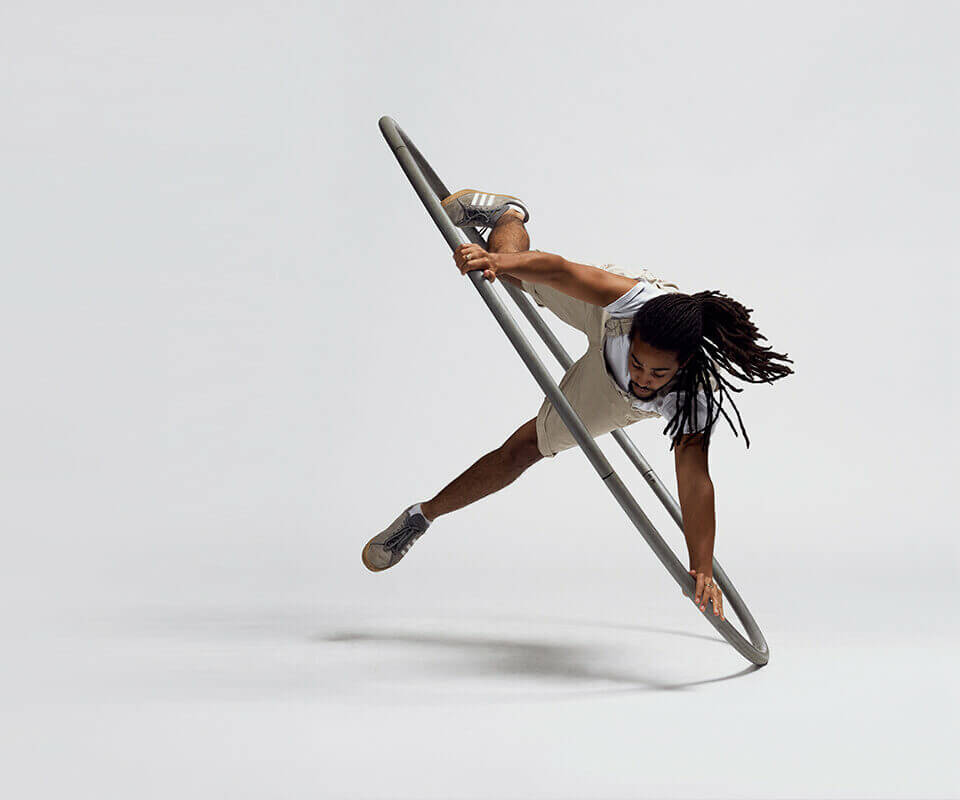 Access to our facilities for independent training
How it works
Request a booking for the session that you wish to attend via the links below. Walk-up places are not currently available due to the pandemic.
Offers will usually be made on the Friday of the preceding week.
If offered a place, you will be sent an e-mail with instructions to pay for your session(s) and to complete a health questionnaire.
On the day of your session, you will be told which studio/training zone you have been assigned.
Become an Open Training member
In order to have access to our facilities for independent training, circus artists must apply to become an Open Training Member.
Apply for membership
Prices
Spring Term 2020-21
£4.50: 3-hour session*
*Emergency funding from Arts Council England has enabled us to temporarily reduce training rates for 2020-21. We hope this will go some way to helping artists during these challenging times. We hope to maintain these pricing levels until the summer. The sessions will return to 2019-20 price levels (£8.50 per session) by August 2021.
Price will reflect the length of sessions.
Payment will be taken when you accept your offer of a place at a session.
In addition, a one-off registration fee of £50 applies for new members.
Equipment
Most school equipment (including all aerial kit) is currently unavailable for members. Exceptions include:
Crash mats and floor mats.
Tightwire (2m high) in GC1.
Chinese poles.
Lunges can be booked but members will need their own lunging belts.
No swinging trapeze or cloud swing is available, but we will consider requests to hard-rig a privately owned bar.
All studios will be in use for Open Training, except for the Acro Studio, the Physio/Conditioning Room and the Library. You will only be able to train in the space/zone you are assigned.
COVID-19 Protocols
Please refer to the Reopening Strategy & User Guidance for full details of the measures we are taking to operate as safely as possible during the COVID-19 pandemic.
Key points for Open Training Members:
Do not attend if you have primary symptoms of COVID-19.
You will need to complete a health questionnaire before coming
Wear a face covering at all times even when training and on equipment 
unless exempt for health reasons
When moving about the building, keep at least 2 metres apart as much as possible.
Observe the floor markings and one-way systems.
Keep at least 3 metres apart from other users while training.
You will be assigned a training zone, the centre-point of which will be marked on the floor. Keep to this centre-point as much as possible. Partner training is permissible under certain circumstances (see criteria document below).
Wash or sanitise your hands regularly.
Always sanitise on entry, before handling lifting systems (allow gel to dry) and after handling your face covering.
Do not touch any NCCA equipment without permission.
Except for mats and lifting systems, most equipment is off-limits. You will be informed of specific protocols if permitted to use other NCCA equipment.
Store personal equipment safely.
You may store equipment in the Members' Store. Sanitise your hands before entering, and avoid touching other people's equipment wherever possible. Please cover/bag your equipment – don't leave it exposed.
Clean your mat(s) and lifting systems at the end of your session.
Use the products provided and following the instructions on the signage. Clean the floor if handled a lot (such as for handstands) and any communal equipment used.
Inform NCCA if you test positive for COVID-19.
Please let us know if you test positive having been in the building during the 48 hours preceding your positive test result or onset of symptoms (whichever was first).
You will receive a briefing about these protocols at your first session back.