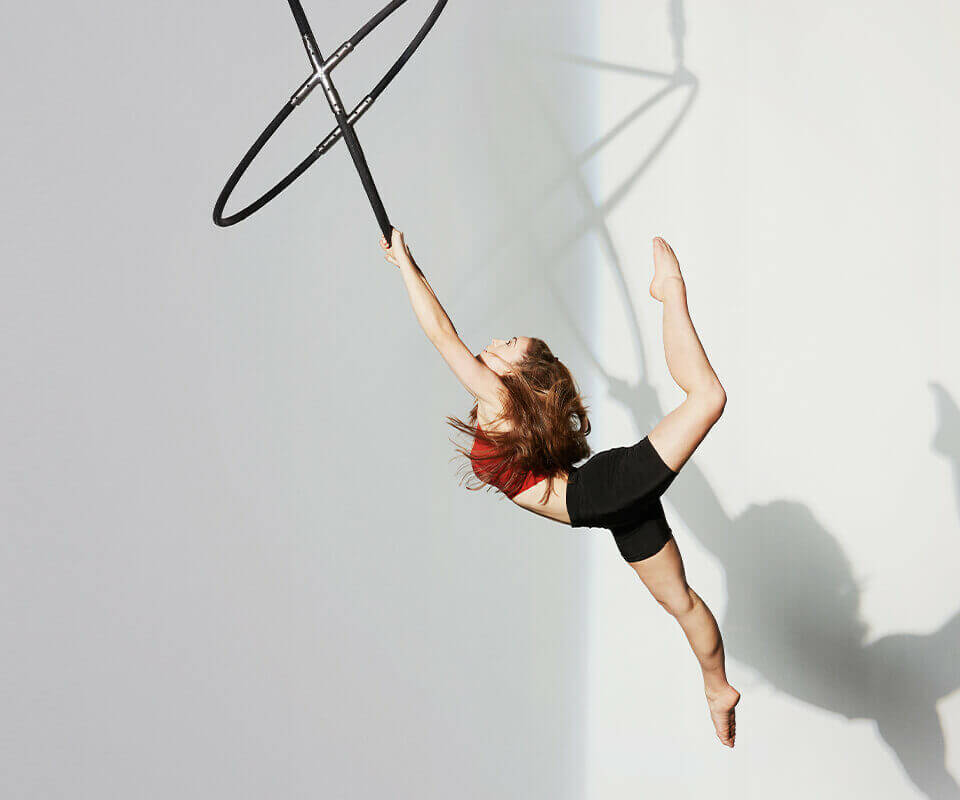 CLONE: Foundation Degree in Circus Arts
The Foundation Degree in Circus Arts is a two-year course which aims to develop a broad range of the skills required as a professional circus artist
Course overview
The Foundation Degree is intense in order to sustain technical and creative progression, with an equal focus on artistic creativity and collaboration. The focus is on the continuous assessment of each student's individual progress, as well as performance related assessment both as an individual and as part of an ensemble. Students' analytical and critical skills are also assessed through research presentations, essays and other assignment projects.
The degree is delivered at the National Centre for Circus Arts and is awarded by the University of Kent. Students must complete and pass all modules in both years of the course in order to obtain the qualification, and progress on the BA (Hons) Degree. Entry on to the BA (Hons) is at the discretion of the Higher Education delivery team.
Module map
Each module is worth a specified number of credits: enabling you to cover key subject knowledge while developing your own interests. You must take modules worth a total of 120 credits at each level of the course.
Our teaching is informed by research, and active performers and directors who are already working in the professional industry. Modules change periodically to reflect developments in the discipline.
You can always find the most up-to-date information about your modules and who is teaching them on Teams, Our virtual Learning Environment (VLE) when you have registered onto the course.
Award

Foundation Degree in Circus Arts

APPLYING

We do not go through UCAS. Applicants need to apply directly through the school

LOCATION

National Centre for Circus Arts – London

AWARDING BODY

University of Kent

DURATION

2 years (full-time), 35 hours a week, 33 weeks in the year

ACADEMIC YEAR

September – July
Foundation Degree Year 1 (Level 4)
During the first year of the Foundation Degree in Circus Arts students can expect to spend an important amount of their autumn term being inducted into the workings of the National Centre for Circus Arts, preparing for your time as a student here and getting to know their year group. Students will gradually be inducted into the use of spaces and equipment, and students will access these resources when we are sure that they are safe and secure in their use. Throughout the year they will undertake intensive physical classes in a range of circus-related activities, as well as sessions in performance, movement, and contextual studies which allow you to gain an understanding of circus in a wider performance context.
The Specialisation Process
Specialisation happens over the course of the autumn term as part of module CA110 – Specialisation Assessments. It is a collaborative process between the student and staff, leading to a decision about which circus discipline is suited both physically and creatively to that person.
Big Space discipline options will be invite only.
Discipline choices will be based on:
Availability of teachers
Space restrictions
Ability
Our goal is to help the circus performer to establish the foundation for a long and fruitful career. We aim for all students in this first year to have completed this process by the end of the spring term. Please see below list of disciplines that the National Centre offers:
Aerial Disciplines 
Single Point Trapeze
Static Trapeze
Doubles Trapeze
Hoop
Rope
Silks
Straps
Multi cord (Basic level of rope and silks required)
Net/Loop (Basic level of rope and silks required)
Aerial Pole (Basic level of Chinese pole required)
Cradle
Acrobatic Disciplines
Hand to Hand
Chinese Pole
Acro Dance
Hand Balancing
Banquine
Juggling and Manipulation
Ball, Club & Ring Juggling
Hula Hoop
Hats, cigar boxes, ball spinning and "Gentleman juggling"
Big Space*
CYR Wheel
Teeter Board
Trick Bike
Tight Wire
Slack Rope
*Invite Only – due to varying factors students will only be assessed in these disciplines by invitation only during the specialisation module.
In the final term we create a timetable that prepares students for continued development in the 2nd Year of the Foundation Degree in Circus Arts.
Foundation Degree Year 2 (Level 5)
The second year of the course is devoted to the development of a student's technical abilities in their circus discipline and other technical skills as well as increasing their understanding of creating, devising and performance contexts. Students will have a tailor made timetable that is specifically designed to support them in the development of their circus discipline, as well as scheduled independent learning sessions to allow students to work towards becoming an autonomous learner.
A typical week during year two will include classes in your specific discipline, other physical complementary classes, acrobatics, performance, movement and contextual studies, as well as time for research and independent practice.
2022 Entry
Applications for our Foundation Degree and BA (Hons) Degree courses* will be opening in October 2021 for September 2022 entry.
*The Courses at NCCA are validated by the University of Kent. We periodically review and enhance them to ensure we are delivering high quality degree courses to our students. We are due to review our course in the 2021/22 academic year. As a result, there may be some changes to the course content and qualifications in September 2022. We will inform all candidates about changes to the course when applicable but for now the course summary document outlines the course you will be applying for. If you have any questions regarding this, please contact Stevie Taylor or Joanna Young.
Deadline for applications: 14 March 2022, 1pm (BST)
Attend an open day
Experience what it is to be a National Centre for Circus Arts student
Attend an open day
Admissions process
The admissions process is made up of two parts.
Part 1
Apply and submit video

You may be entitled to have your audition fees waived if you meet all of the following criteria:
UK Resident
Applying to an undergraduate programme (Foundation and BA Hons Degree)
New to higher education (no previous degree-level qualification)
Annual household income of less than £25,000
If you would like to find out more or apply for a fee waiver please visit http://www.cdd.ac.uk/student-info/auditions/
For further information please email the Conservatoire for Dance and Drama at info@cdd.ac.uk
Auditions

Over the course of the day, candidates will follow working sessions similar to classes held on the programme. The day will include:

Stage 1
Meet and greet
Movement
Circus skills
Theatre
Presentations Successful candidates for Stage 2 will be informed to stay.
Stage 2
Interviews and Q&A session
Video Auditions

Applicants that are based outside of the UK or are unable to attend one of our scheduled audition dates can apply to audition by video. Video audition requests will be based on individual circumstance. A full video audition pack will be sent to you on completion of the application form.
How will you be assessed?

Our audition panel will be looking for your potential and suitability to study on our course and pursue a career in circus arts.
The audition assessment criteria covers the following areas:
Technical skills
Creativity
Performance skills
Ability and willingness to take instruction and direction
Aspirations and motivations
Have questions?

If you have any questions about the application and audition procedure please contact the Admissions and Registry Manager, Joanna Young on joanna@nationalcircus.org.uk or call 020 7613 8244.
How to find us
Shoreditch Electric Light Station, home of the National Centre for Circus Arts, is based in the heart of Shoreditch.
Old Street Underground Station (Northern Line) is 4 mins away and just two stops from St. Pancras International Rail Station. The London Overground network is close by as well as numerous bus routes making Shoreditch Electric Light Station easily accessible from all areas of London.
Attend an open day
Experience what it is to be a National Centre for Circus Arts student
Attend an open day