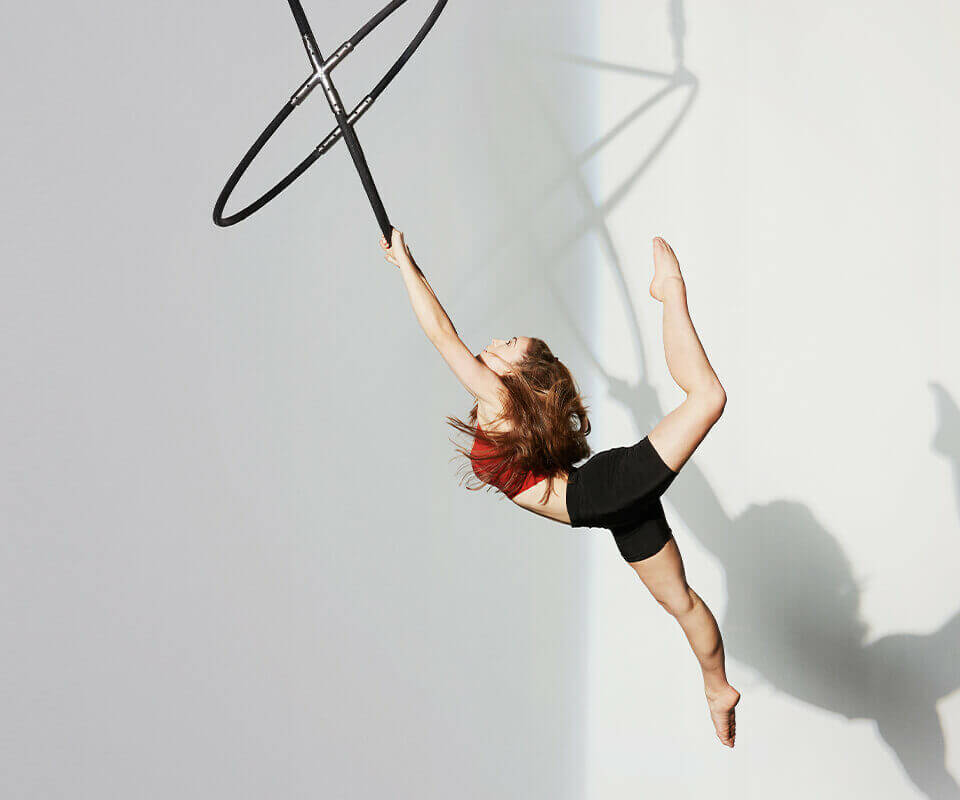 Foundation Degree in Circus Arts
The Foundation Degree in Circus Arts is a two-year course which aims to develop a broad range of the skills required as a professional circus artist
Course overview
The Foundation Degree is intense in order to sustain technical and creative progression, with an equal focus on artistic creativity and collaboration. The focus is on the continuous assessment of each student's individual progress, as well as performance related assessment both as an individual and as part of an ensemble. Students' analytical and critical skills are also assessed through research presentations, essays and other assignment projects.
The degree is delivered at the National Centre for Circus Arts and is awarded by the University of Kent. Students must complete and pass all modules in both years of the course in order to obtain the qualification, and progress on the BA (Hons) Degree. Entry on to the BA (Hons) is at the discretion of the Higher Education delivery team.
Independent Registration
After many years as a member of the Conservatoire for Dance and Drama (CDD) we have recently decided to seek independent registration as a Higher Education Provider (HEP) and are currently in the process of making an application to the Office for Students (OfS). We aim to be independent by 2023. Students currently enrolled will therefore complete their studies under registration with CDD and students enrolling from 2021/22 will complete their 2-year Foundation Degree with CDD but continue with their 3rd year BA (Hons) top up registered with National Centre for Circus Arts. Students enrolling in 2022/23 should be aware that their course may be registered independently with the National Centre. The courses will continue to be validated by the University of Kent and we will work closely with CDD to ensure there is no disruption to students during this period of transition. For more information please read CDD's Statement on future direction.
Module map
Each module is worth a specified number of credits: enabling you to cover key subject knowledge while developing your own interests. You must take modules worth a total of 120 credits at each level of the course.
Our teaching is informed by research, and active performers and directors who are already working in the professional industry. Modules change periodically to reflect developments in the discipline.
You can always find the most up-to-date information about your modules and who is teaching them on Teams, Our virtual Learning Environment (VLE) when you have registered onto the course.
Award

Foundation Degree in Circus Arts

APPLYING

We do not go through UCAS. Applicants need to apply directly through the school

LOCATION

National Centre for Circus Arts – London

AWARDING BODY

University of Kent

DURATION

2 years (full-time), 35 hours a week, 33 weeks in the year

ACADEMIC YEAR

September – July
Foundation Degree Year 1 (Level 4)
During the first year of the Foundation Degree in Circus Arts students can expect to spend an important amount of their autumn term being inducted into the workings of the National Centre for Circus Arts, preparing for your time as a student here and getting to know their year group. Students will gradually be inducted into the use of spaces and equipment, and students will access these resources when we are sure that they are safe and secure in their use. Throughout the year they will undertake intensive physical classes in a range of circus-related activities, as well as sessions in performance, movement, and contextual studies which allow you to gain an understanding of circus in a wider performance context.
The Specialisation Process
Specialisation happens over the course of the autumn term as part of module CA110 – Specialisation Assessments. It is a collaborative process between the student and staff, leading to a decision about which circus discipline is suited both physically and creatively to that person.
Big Space discipline options will be invite only.
Discipline choices will be based on:
Availability of teachers
Space restrictions
Ability
Our goal is to help the circus performer to establish the foundation for a long and fruitful career. We aim for all students in this first year to have completed this process by the end of the spring term. Please see below list of disciplines that the National Centre offers:
Aerial Disciplines 
Single Point Trapeze
Static Trapeze
Doubles Trapeze
Hoop
Rope
Silks
Straps
Multi cord (Basic level of rope and silks required)
Net/Loop (Basic level of rope and silks required)
Aerial Pole (Basic level of Chinese pole required)
Cradle
Acrobatic Disciplines
Hand to Hand
Chinese Pole
Acro Dance
Hand Balancing
Banquine
Juggling and Manipulation
Ball, Club & Ring Juggling
Hula Hoop
Hats, cigar boxes, ball spinning and "Gentleman juggling"
Big Space*
CYR Wheel
Teeter Board
Trick Bike
Tight Wire
Slack Rope
*Invite Only – due to varying factors students will only be assessed in these disciplines by invitation only during the specialisation module.
In the final term we create a timetable that prepares students for continued development in the 2nd Year of the Foundation Degree in Circus Arts.
CA102
Autumn, Spring & Summer
|

60 credits
CA107
Spring & Summer
|

10 credits
CA108
Spring & Summer
|

10 credits
CA109
Spring & Summer
|

15 credits
Performance in Theory & Practice
CA110
Autumn & Spring
|

10 credits
Specialisation Assessment
Foundation Degree Year 2 (Level 5)
The second year of the course is devoted to the development of a student's technical abilities in their circus discipline and other technical skills as well as increasing their understanding of creating, devising and performance contexts. Students will have a tailor made timetable that is specifically designed to support them in the development of their circus discipline, as well as scheduled independent learning sessions to allow students to work towards becoming an autonomous learner.
A typical week during year two will include classes in your specific discipline, other physical complementary classes, acrobatics, performance, movement and contextual studies, as well as time for research and independent practice.
CA207
Theory, Practice and Analysis of Performance
CA210
Autumn & Spring
|

15 credits
Action, Reaction & Creation
CA211
Autumn, Spring & Summer
|

35 credits
Circus Discipline Level 1
CA212
Autumn & Spring
|

15 credits
CA204
Spring & Summer
|

10 credits
Circus Producing and Production Management
CA209
Spring & Summer
|

20 credits
The Student Devised Piece
Apply
Degree applications for 2022 entry have now closed. Applications for 2023 entry will open on our website in October 2022. If you have any questions in the meantime regarding our admissions process, please do not hesitate to contact our Admissions and Registry Manager via joanna@nationalcircus.org.uk
*The Courses at NCCA are validated by the University of Kent. We periodically review and enhance them to ensure we are delivering high quality degree courses to our students. We are due to review our course in the 2021/22 academic year. As a result, there may be some changes to the course content and qualifications in September 2022. We will inform all candidates about changes to the course when applicable but for now the course summary document outlines the course you will be applying for. If you have any questions regarding this, please contact Stevie Taylor or Joanna Young.
Entry Requirements
Applicants must be 18 or over on entry.
Applicants will be able to demonstrate their intent to pursue professional employment in circus arts.
Applicants will be required to demonstrate a proficiency in both written and verbal English language. For the Foundation Degree in Circus Arts this would normally be GCSE English or equivalent International English Language Testing System. Overseas students may be required to take a Secure English Language Test (SELT) prior to entry in order to meet VISA requirements.
Applicants must fulfil parts 1 and 2 of the admissions process. If the applicant is from outside the UK or they are unable to attend an audition day they may request to submit a full video audition (instead of attending part 2), however, we recommend attending the live audition.
There are further entry requirements for BA (Hons) applicants. Please check our BA course page for more information.
Applications are now closed. Please check back in the Autumn term.
Admissions process
The admissions process is made up of two parts.
Part 1: Apply and submit video
Apply directly through our website (applications are currently closed)
Pay the £25 application fee. Fee waivers are available*
Submit your video link within the application. See part 1 video guidance and criteria
Once we have received your application form, video and payment, we will invite you to part 2 (a one-day audition) so long as you meet the entry requirements above
*Application fee waivers
We are able to offer a number of application fee waivers to UK applicants from low-income backgrounds that may not otherwise be able to make an application. For further information about eligibility and how to apply please visit the Conservatoire for Dance and Drama website.
Part 2: Attend an in-person audition
Part 2 Auditions will be held in April at the National Centre for Circus Arts building, London. Find out more about the audition.
COVID-19
We are hopeful that the 2nd part of our 2-part auditions will be able to go ahead at the National Centre for Circus Arts building in 2022. However, if due to Covid-19 they cannot, alternative arrangements will be put in place and applicants will be required to audition fully via video. To help prepare for this scenario, we advise applicants to start gathering video material, such as training or circus discipline footage and familiarise themselves with our full video criteria.
How to find us
Shoreditch Electric Light Station, home of the National Centre for Circus Arts, is based in the heart of Shoreditch.
Old Street Underground Station (Northern Line) is 4 mins away and just two stops from St. Pancras International Rail Station. The London Overground network is close by as well as numerous bus routes making Shoreditch Electric Light Station easily accessible from all areas of London.
Attend an open day
Experience what it is to be a National Centre for Circus Arts student
Attend an open day
Download the prospectus
More information, with all your degree questions answered
Download prospectus