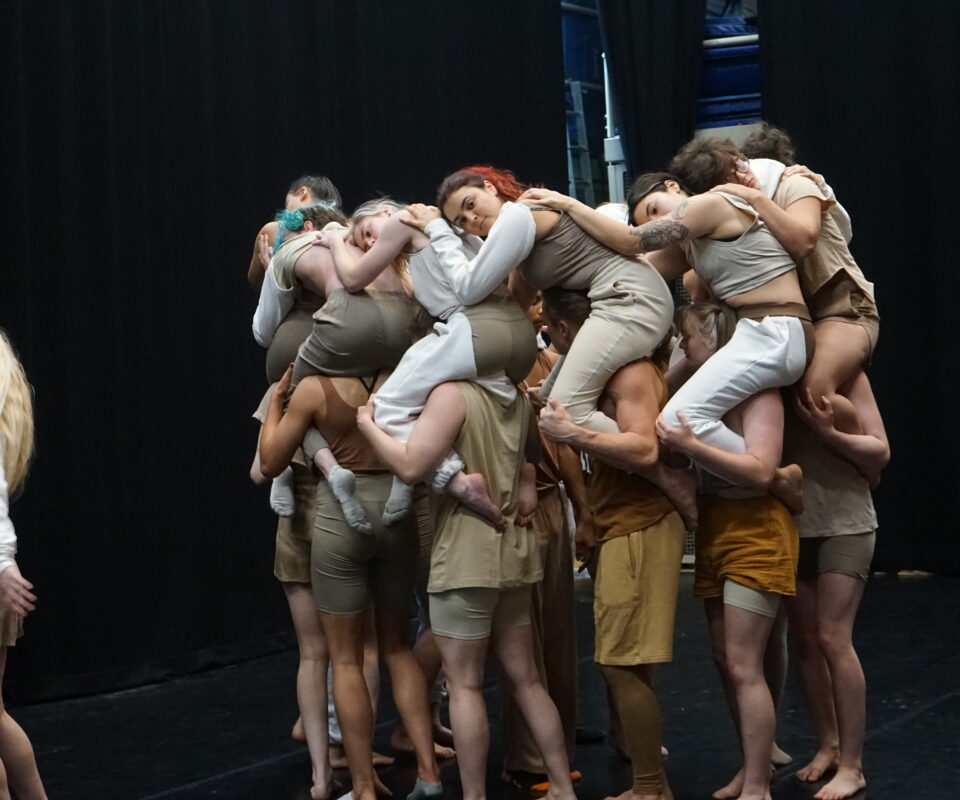 BA (Hons) Degree Devised Performances 2022
Ben Ratcliffe
CRIMSON SYMPHONY
As a power thought lost from this world awakens, rain, thunder and the cries of fallen compose a melody of war under this bloodshot sky.
Thank you to Hauk Pattison and Lydia Harper for being the best Chinese Pole teachers I could ask for.
And thank you to the rest of the faculty at National Centre for Circus Arts for supporting me throughout these last 3 years.
Ben has trained at National Centre for Circus Arts for 3 years. Before this being Sports Acrobatic Gymnast for 8 years.
Majors in Chinese Pole
Other Skills include: straps, partner acro, hand balancing and acro dance.
Instagram: @ben_ratcliffe
Lucy Gilroy
All THAT GLITTERS
This piece examines the themes of pleasure and shame through the female gaze.
Through a female driven narrative, I focus on women throughout history and their relationship to these two concepts and how this has changed/affected our society today.
I aim to highlight and celebrate all women, however they experience and express their shame and pleasure.
Dedicated to some of the best women I know – Julie Gilroy, Rebecca Carrington, Sophie Bush, and my incredible coaches Amy Panter and Katharine Arnold.
Thank you to everyone at the National Centre for the last 3 years.
Lucy has trained for 3 years at The National Centre for Circus Arts. Their background is in theatre, dance and musical theatre, training full time for 2 years at Arts School of Performance and one year at East 15 Acting School.
Majors in Aerial Hoop
Other Skills include: aerial hoop, theatre, dance & musical theatre
Email: lucygilroy33@gmail.com
Mel Palmer
 'SECURITY SECURITY'
This performance centres around Safety Inspector Mel, who can never seem to catch a break.
It is a build-up of tension, frustration and moments of hilarity through juggling, rolla-bolla and phone calls. All Mel wants is a biscuit and a brew.
When will my character decide that enough is truly enough? Creating this piece has been both challenging and inspiring, exploring comedy timing, tension building and sequencing.
Thank you to Mick Barnfather for being a great mentor and support throughout this process. Also, huge thank you to the National Centre and above all, Ness and Antigone for being by side every step of the way.
Mel has trained for 3 years at The National Centre for Circus Arts. Before this, they also trained for one year at Circomedia.
Majors in Juggling
Other Skills include: Equilibristics 
Email: Mel-palmer@outlook.com
Camille Zanni
MON AMANITA
This piece takes a trip into a different land, showing a mundane day in a woodland world.
As a friendly, kind fairy, my character protects her forest land at all costs, but is as gentle as a mouse and prefers to be hidden away. The silks in this performance act as the residence of my character and the audience get to glimpse into what her secret world is like.
It is the average day of a fairy. A story of fairies, woods and the importance of mushrooms.
Thank you to Will Davis, Leo Hedman and Katharine Arnold.
Camille has trained for 3 years at The National Centre for Circus Arts. Before this, Camille trained at Ini'cirque and l'Ecole de cirque de Bordeaux in France.
Majors in Aerial Silks
Emma Saunders
OPULENCE, ELEGANCE AND THE 1990 MTV VIDEO MUSIC AWARDS
"You can become anything and do anything right here, right now, and it won't be questioned.
I came, I saw, I conquered. That's a ball."- Paris Is Burning
An aerial straps act paying homage to pop culture, queer culture and where the two intersect. This act is a moment of living my fantasy unapologetically, inspired by my research into the rich history of ballroom culture and drag. In 1990 Madonna wrote a song celebrating the house ballroom communities of New York, this is that song…
Dancers- Micah Wagner, Becky Robins, Travis Rabarijaona, Helga Ehrenbusch
Creative Mentor- LJ Marles
Lead Discipline teacher- Alexander "Sasha" Dobrynin
Emma has trained for 3 years at The National Centre for Circus Arts. Emma prior to this, trained as an international sports acro gymnast and then completed a 2 year diploma at Circomedia. They have also completed a short course in circus at DOCH circus school in Stockholm.
Majors in Aerial Straps
Other Skills include: Acrobatics (hand to hand and banquine) and trapeze.
Email: Emmadilemmacircus@gmail.com
Myles McDonald
SLANT
Our memories are considered to be stored in a filing cabinet of the brain. But in reality, they are only built at the point of retrieving them.
What is a memory? Reconstruction of a memory can be very different to the original event depending on memory style, circumstances and emotion.
This creates a surrealist landscape that I hope to dive into, bending and subverting what we know reality to be. My piece explores a nostalgic blend of movement and juggling whilst sustaining a down-to-earth pedestrian integrity.
Myles has trained for 4 years at The National Centre for Circus Arts, one of these years including a diploma.
Majors in Juggling
Instagram: @mylesmcdonald
Andrew Quinn
ABOARD THE RUSTY MAIDEN
"Is there anything more relaxing than a blissful airship ride? Not to my knowledge!
The Rusty Maiden is a crown jewel among airships. Yes! Very sought after. Truly, you won't find another with such… personality! Where you see flaws, we see quirks! Does it work? Well of course it does! And for the right price, this luxurious rig can be yours!
Come in Moleman, take a peek inside."
To the average passer by, one would immediately know not to buy such a damaged and neglected piece of metal…but Moleman has always been susceptible to a deal.
With special thanks to my amazing teachers, Hauk Pattison and Lydia Harper and the National Centre for supporting me during an incredible 3 years
Andrew has trained for 3 years at The National Centre for Circus Arts.  Prior to this, Andrew trained at Ini'cirque in Perigueux, France for 2 years in hand to hand.
Majors in Chinese Pole
Other Skills include: hand to hand, adagio & acro dance
Email: andrewquinn04@gmail.com
David Sanchez
 • 7441 – SPANISH VARIATION •
A love story between juggling and flamenco.
Inspired by the passion of throwing and catching things that started guiding my life 7 years ago, and the new love towards a folkloric dance that has touched my heart since I moved to the UK. Probably the hardest dissociation challenge I've ever experienced and through which I'm aiming to share with the audience the playfulness and enjoyment that this disciplines make me feel.
I dedicate this performance to my family, thank you for supporting me from the beginning. And, a special thanks to all of the National Centre staff for everything they have done in the past 3 years.
David  has trained for 3 years at The National Centre for Circus Arts.  Prior to this, David completed 4 years in Spain at the Spanish Circus School Rey Juan Carlos University, studying Dance & Visual arts. David has also completed a flamenco dance course at Ilusión Flamenca school.
Majors in Juggling
Other Skills include: hair hanging, unicycling & flamenco
Izzy Bloomer
BEACH BUM
Add a 1980's zeitgeist boiled down to a sauce, a dash of ingrained sexism mixed with a beautiful spice of small dick syndrome and you'll have RODGE THE DODGE, a wannabe alpha male who's breath smells of Armani and armpits of scotch.
Huge thank to everyone at National Centre of Circus Arts for being supportive.
Special thanks to Leo Hedman, Will Davis and Katharine Arnold for teaching and inspiring me and thank you to the wonderful Ruby Gaskell for coming and mentoring me in the ways of being a drag-king. 
Izzy has trained for 3 years at The National Centre for Circus Arts.
Majors in Rope
Other Skills include: acro
Matheus Kamla
THEUS KAMLA – JUGGLING

Using a cabaret style of performance, I will incorporate both traditional elements of juggling and Brazilian carnival including: the samba, drumming and dancing.
My piece is both ambitious and a spectacle, using props never seen before. I aim to wow and amaze; this performance is guaranteed to make you smile.
Hours of dedicated practice have made this act, and I hope all can appreciate the time I've spent perfecting it and the risks I've taken to take it that step further. I can't wait to continue my juggling journey. How will the performance end? I don't know, it's up in the air!
Thank you to National Centre for Circus Arts for the past 3 years!
Matheus has trained at The National Centre for Circus Arts for the past 3 years. Before this, Matheus was a street performer and has taken part in projects with The Roundhouse.
Majors in Juggling
Email: Theuskamla@gmail.com
Isaac Munn
GOATS
Why strive to become something other than human?
Is augmenting ourselves with technology the only way to transcend what we are?
At what point would one cease to be human and start being a goat? Is it returning to nature if the natural world is something we've designed for ourselves?
Thoughts like these are explored in my piece GOATS.
Isaac has trained for 3 years at The National Centre for Circus Arts on our Degree programme and prior to this in our London Youth Circus  for 3 years, including a year in the BTEC course.
Majors in Rope
Other Skills include: acrobatics & hula hoop
Email: 19isaac@nationalcircus.org.uk
Alex Morton
 INDUSTRIAL FISHING
Bycatch is the industry term for what they consider unwanted or economically-worthless aquatic animals who are unintentionally caught using destructive and indiscriminate fishing methods like longlines and driftnets.
Building frames and then breaking them.
Sending momentum back from where it came.
I like to see juggling as a way of exploring the physicality and technique of using objects both for their intended purpose, and for anything other than their intended purpose.
Alex has trained at NCCA for 3 years and has spent 1 year on the BTEC at Circomedia in Bristol. Before this, Alex had been training in Parkour for 8 years.
Majors in Juggling
Other Skills include: Static Trapeze.
Maxine Sircana
EVERY CLOUD.
Looking into the eye of the storm. This performance is raw and hopeful, asking how we can continue to look onwards and upwards when life's waves keep crashing over us.
My physicality captures the vulnerablity, struggle and strength needed to accept life's bitter moments. When it keeps throwing us back into the storm, how can we find the resilience to fight and find the light?
Dedicated to my dear and beautiful friend who always found the silver lining. My beacon of light, Andy O'Keefe.
For when life keeps throwing us under the waves, we hoist our sails and head out into the storm.
Maxine completed two years in the FDA at Circomedia and has been with us for the past year, completing their BA.
Majors in Aerial Heptagon
Other Skills include: aerial hoop, hula hoop and all things spinning!
Email: maxinesircana@gmail.com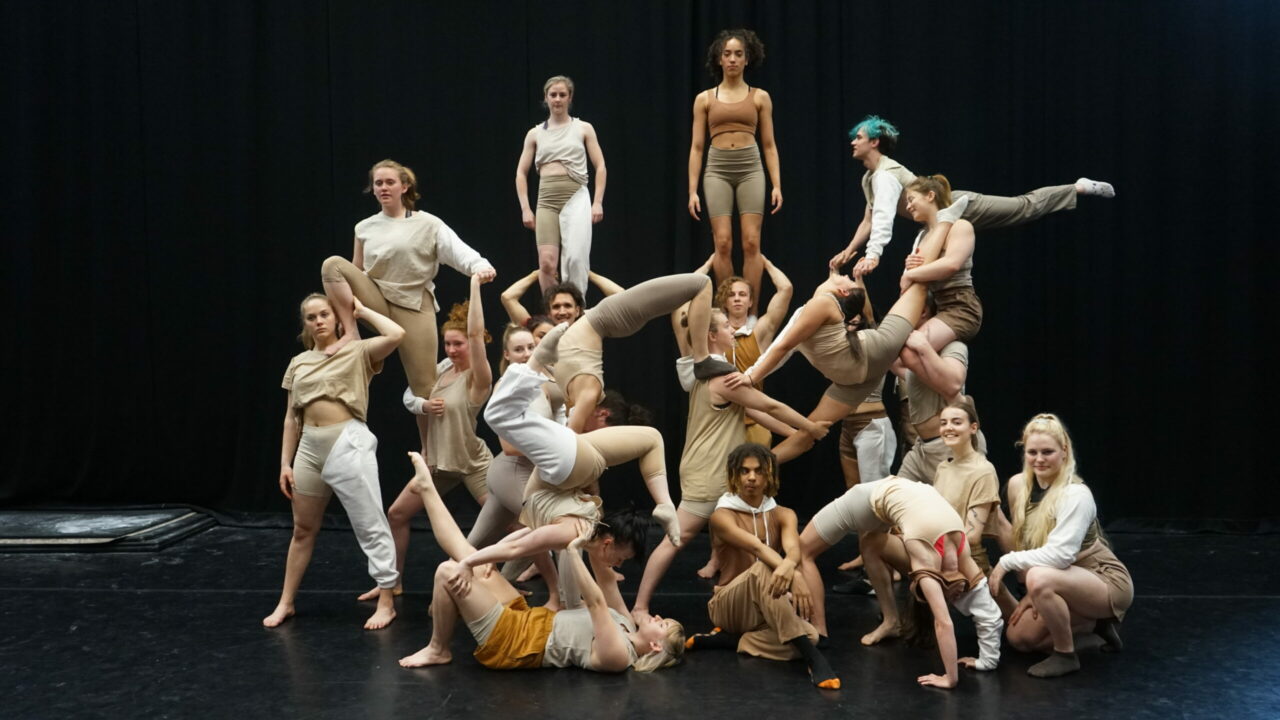 Foundation Degree Year 1 Cast
Alex Ansari,
Georgia Bittenbender,
Jack Brooke,
Phoebe Bryan,
Christian Carr,
Helga Ehrenbusch,
Judit Feher,
Medeleine Fuller,
Ebony Gumbs,
Adam Havksy,
Laura Hogg,
Ellen James,
Georgina Lance,
Nora Linjawy,
Ash Meyer,
Kas Mulinge,
Pascale Kann Palma,
Travis Rabarijaona,
Becky Robins,
Sophie Stinchon,
Tess Stockwell,
Dilly Taylor,
Niamh Taylor,
Micah Wagner,
Erin Williams
Creative and Production Team
Michaela O'Connor – FD1 Ensemble Director
Mark Dymock – Lighting Designer
Andrea Biondo – Sound Designer
Emily Sions – FD1 Ensemble Costume Designer
Tom Albu – Production Manager
Saskia Godwin – Company Stage Manager
Eleanor Chapman – Deputy Stage Manager
Carmela Birch – Technical ASM
Matt Burch – Head of Rigging
Sunni Jolly – Deputy Technical Manager
Steve Ryan, Petr Voka and Sam Hague – Production Crew
Shanice Archer – Costume Assistant
Louis Gift – Assistant Director for FD1
Martha Harrison – BA module lead, Assistant Director
National Centre Staff
BA (Hons) Teaching Team
Katharine Arnold
Will Davis
Leo Hedman
Alexander Dobrynin
Amy Panter
Lydia Harper
Hauk Pattison
Charlotte Mooney
Ian Marchant
Inaki Fernandez Sastre
Ruby Gaskell
Jacob Smart
Mick Barnfather
Neus Gil Cortes
Louis Gift
Higher Education Team
Adrian Porter- Head of Higher Education Delivery
Stevie Taylor – Head of Academic Administration
Martha Harrison – Programme Strand Manager
Amy Welbourn – Programme Strand Manager
Michaela O'Connor – Programme Strand Manager
Antigone Exton-White – Student Support Manager
Joanna Young – Admissions and Registry Manager
Nikita Shergill – Records Officer
Staff Team
Alice Jackson – Head of Learning and Access
Anna Duncan – Access & Participation Manager
Anthony Lewis – Buildings Maintenance Officer
Arran Peck – Strength & Conditioning Coach                                                                                                                                                                                                                                             
Carl Thorndike – Data Manager
Dan Cowdrill – Commercial Director
Dave Kennard – Duty Manager
Emma Barrow – Business Development Manager
Froniga Lambert – Chief Operating Officer
Glen Stewart – Director of Professional Development
Jade Leatham – Recreational Services Manager
James McCambridge – Teacher Education Manager
Kamila Krupczynska-Mieluch – Finance Manager
Kate White – Chief Executive
Laura Wyatt O'Keefe – Customer Service Assistant
Lois Tucker – Duty Manager
Lucy Fawthrop – Commercial Support Officer (Recreational Services)
Ness Heduan – Buildings & Facilities Manager
Niamh Glanville-Frayne – Customer Service Assistant
Nic Farr – Customer Service Assistant
Niki Lavithis – Access & Participation Manager
Oliver Fox – Trusts and Foundations Manager
Petra Lazarek – Head of Commercial Events
Philip Nichols – Head of Marketing & Communications
Raffia Rahman – Customer Service Assistant
Rio Hayles – Access & Participation Manager
Sanjay Dasani – Head of Buildings and Facilities
Sharon Harble – Executive Assistant to CEO
Sithy Ismail – Finance Administrator
Stefano Di Renzo – Artist Development Manager
Tabatha Gregg-Allured –  Digital Marketing Officer
Tony Bonnar – Head of Finance
Vaida Pikzirne – Commercial Support Officer