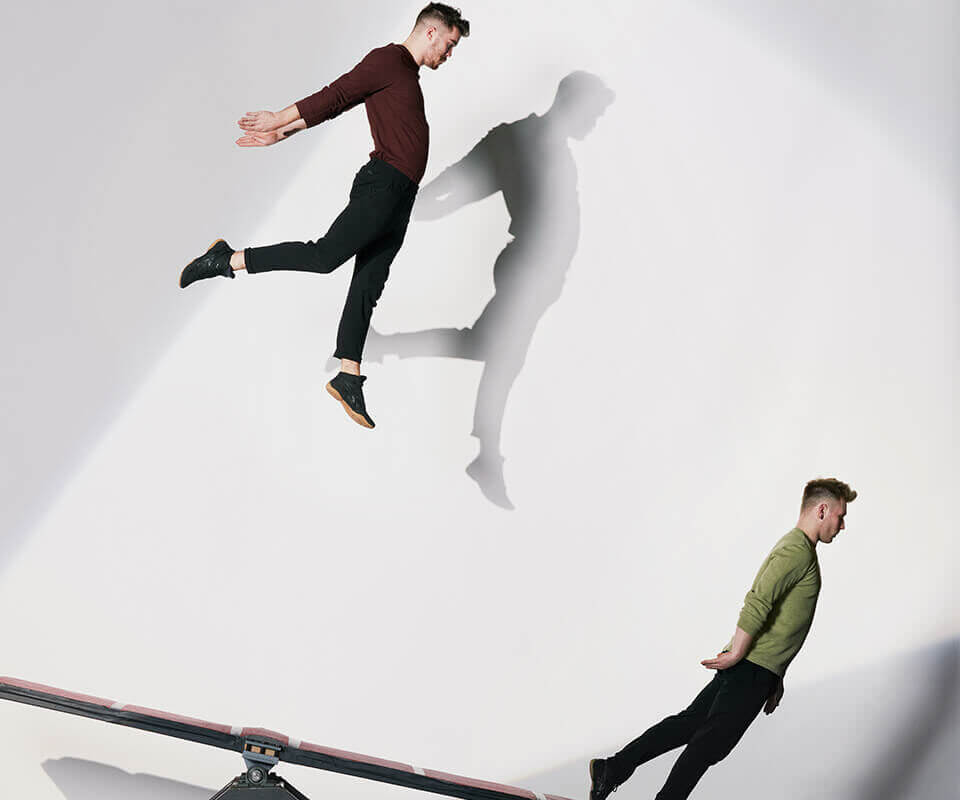 This one year course consolidates the technical level of a specific circus discipline and its integration with a personal artistic approach.
Course Overview
This one year course consolidates the technical level of a specific circus discipline and its integration with a personal artistic approach.
The training is intensive; weeks are 35 hours long with a mix of taught sessions and scheduled independent learning. Each year is 33 weeks in length in order to sustain physical progression. As well as physical skill development there is a strong focus on artistic exploration and creativity, contextual studies and business planning.
The course will focus on continuous assessment of each student's individual progress, as well as performance related assessment both as an individual and as part of an ensemble. Students analytical and critical skills are also assessed through research projects and presentations.
AWARD

BA (Hons) Degree in Circus Arts

UCAS CODE

We do not go through UCAS

LOCATION

National Centre for Circus Arts – London

AWARDING BODY

University of Kent

DURATION

1 year (full-time), 35 hours a week, 33 weeks in the year

ACADEMIC YEAR

September – July
Module Map
Each module is worth a specified number of credits. You must take modules worth a total of 120 credits across the whole year.
Our teaching is informed by research, and active performers and directors who are already working in the professional industry. Modules change periodically to reflect developments in the discipline.
You can always find the most up-to-date information about your modules and who is teaching them on Teams, our Virtual Learning Environment (VLE), once you have registered for the course.
As part of our Quality Assurance Processes, this course undergoes a periodic review. There have been some minor amendments to the modules in the BA Degree that will be implemented in 23/24
Attend an open day
Experience what it is to be a National Centre for Circus Arts student
Attend an open day
Entry Requirements
Applicants should hold a Foundation Degree from the National Centre for Circus Arts or another school which is a recognised Full member of FEDEC.
Any candidate applying for direct entry to the BA (Hons) course from any of these institutions must provide evidence that they have successfully completed two years of training on a relevant course, equivalent to a Foundation Degree, along with details of their previous study (for example a student handbook or module guide).
If you do not hold a Foundation Degree from a recognised FEDEC school but believe you have enough prior experience in Circus Arts, we may be able to consider you for RPL (Recognition of Prior Learning). Please contact joanna@nationalcircus.org.uk for more information.
Direct entry applicants will be interviewed at audition and will be expected to provide a reference and their transcript to date. This is to ensure that they are being assessed for entry on the same basis as internal applicants from the National Centre Foundation Degree.
Applicants will be required to demonstrate a proficiency in both written and verbal English language which would normally be GCSE English or equivalent International English Language Testing System. Overseas students may be required to take a Secure English Language Test (SELT) prior to entry in order to meet VISA requirements.
We define BA level in this context as someone who can formulate and communicate his or her technical and artistic needs at a level consistent with a view to entering the profession as a young practitioner. We also expect candidates to be capable of working at a level of autonomy not necessarily present, or acquired at, Foundation Degree level.
Apply
Applications for our Foundation Degree and BA (Hons) Degree courses are NOW OPEN.
*The Courses at NCCA are validated by the University of Kent. We periodically review and enhance them to ensure we are delivering high quality degree courses to our students. The next review is scheduled during the 23/24 Academic Year and any developments or changes to the course will be implemented in the 24/25 Academic year. We will inform all applicants about changes to the course when applicable but for now the course summary document available on the website here is the course you will be applying for. If you have any questions regarding this, please contact Stevie Taylor (Stevie@nationalcircus.org.uk) or Joanna Young (joanna@nationalcircus.org.uk).
Deadline for UK Applications: 25 March 2024, 1pm (GMT)
Deadline for Overseas* Applications: 2nd April 2024, 1pm (BST)
*This deadline is for those applying to audition fully by video only. If you are applying to audition in-person you must apply by 25th March 2024. Read more about our admissions process below and audition options.
Admissions process
The admissions process is made up of two parts.
Part 1: Apply and submit video
3. Once we have received your application form and video, we will invite you to part 2 (a one-day audition*) so long as you meet the entry requirements above.
*Or a full video audition depending on circumstances.
Part 2: Attend an in-person audition
or submit full video
Part 2 Auditions will be held in April at the National Centre for Circus Arts building, London. Find out more about in-person and full video auditions.