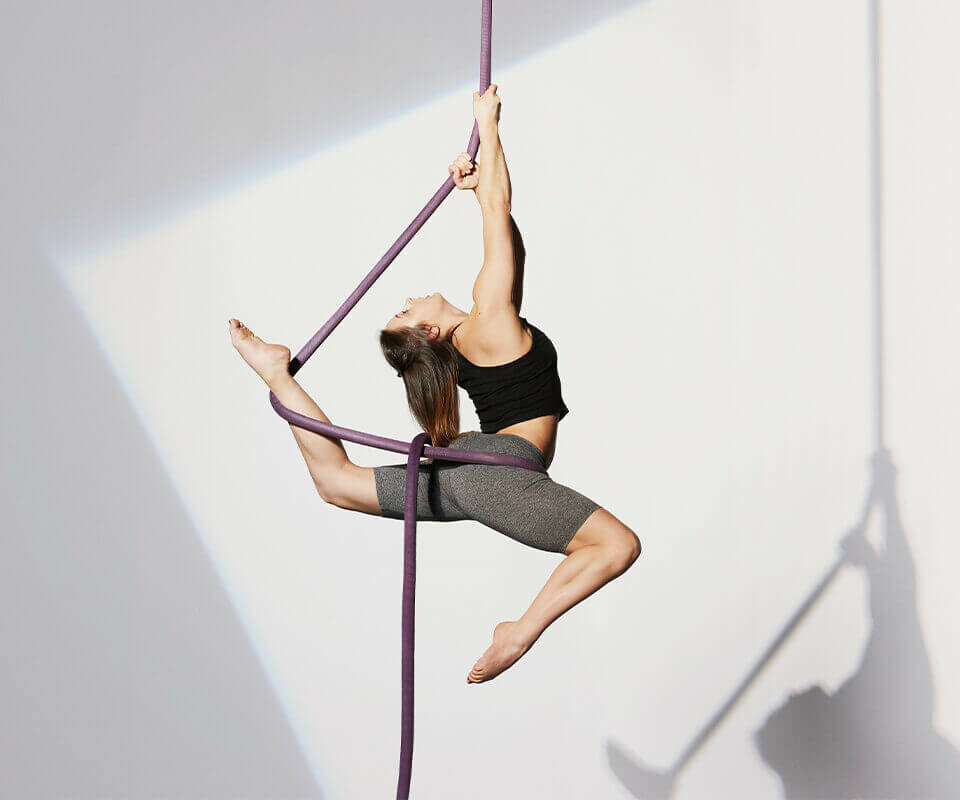 Some of the frequently asked questions potential students have about the degree programme
What qualifications do I need for the Foundation Degree / BA Hons Degree?

Foundation Degree applicants must be 18 or over on entry and be required to demonstrate a proficiency in both written and verbal English language. For the Foundation Degree in Circus Arts this would normally be GCSE English or equivalent International English Language Testing System. Overseas students may be required to take a Secure English Language Test (SELT) prior to entry in order to meet VISA requirements. BA Hons applicants should also hold a Foundation Degree from the National Centre for Circus Arts or another school which is a recognised Full Type 1 member of FEDEC. A full list can be found here on our website.
Do I need a background in circus?

We look for the potential in circus but having a background in it is not necessary.
Do I already need to specialise in a circus discipline to apply?

For the foundation degree, you do not need to specialise in a specific circus discipline to apply and audition. Successful candidates will go through our specialisation process during the first term of the course.
See more about the specialisation process on the Foundation Degree course page.

BA (Hons) top-up degree applicants will need to be already specialised in their circus discipline and hold a Foundation Degree from the National Centre for Circus Arts or another school listed as a recognised Full Type 1 member of FEDEC.
A list can be found in the entry requirements.
Which circus disciplines can I specialise in?

The National Centre offer the following disciplines:

Aerial Disciplines
Single point trapeze
Static trapeze
Doubles trapeze
Hoop
Rope
Silks
Straps
Multi cord (Basic level of rope and silks required)
Net/loop (Basic level of rope and silks required)
Aerial pole (Basic level of Chinese pole required)
Cradle
Acrobatic Disciplines
Hand to hand
Chinese pole
Acro dance
Hand balancing
Banquine
Juggling and Manipulation
Ball, club and ring juggling
Hula hoop
Hats, cigar boxes, ball spinning and 'gentleman juggling'
Big Space*
Cyr wheel
Teeterboard
Trick bike
Tightwire
Slack rope
*Invite only – due to varying factors students will only be assessed in these disciplines by invitation only during the specialisation module
What does the audition involve and what are you looking for?

There are two parts to our auditions this year, an online video audition and an in-person audition at the National Centre for Circus Arts building. The Video is made up of a series of acrobatics and flexibility tasks and exercises. During the in-person audition, candidates will take part in workshops similar to classes held on the course and will also perform their own presentation. After the presentations, selected candidates will be invited to stay for an interview and Q&A session. Throughout both parts of the audition, the panel will be looking for candidates' potential to study and develop on our course. They will be looking at technical, creative and performance skills, as well as candidates' motivations and commitment to the profession. See more about the admissions process on our Foundation Degree and BA Hons Degree pages.
Can I bring my own equipment to the audition?

It is advised where possible to use our equipment here. If we cannot provide your equipment of choice then further discussion can be had and will work on a case by case basis.
Will I have to write essays?

Yes, as we are a degree course there is a strong element of academic work. This constitutes to 30% of the course, the rest being practical assessment.
As an EU national, how will Brexit affect me wanting to study in the UK?

Citizens of the EU, Iceland, Liechtenstein, Norway and Switzerland studying, or planning to study in the UK may in previous years have qualified for 'Home' fee status due to arrangements under the EU in place whilst the UK was a member of the EU. However, these citizens should be aware that for courses beginning in autumn 2021 and beyond, if they do not meet the residence requirements to be classed as having 'Home' fee status (generally this will be by having settled or pre-settled status under the EU Settlement Scheme), they will now be classed as having 'Overseas' fee status and may be required to apply for a student VISA. Please check the New Eligibility Rules for Home Fee Status and Student Finance for the 2021/22 Academic Year.

You may also find useful information on the UK Council for International Student Affairs website (UKCISA).

GOV.UK – Student visa
GOV.UK – Points-based system student route
UKCISA – EU, EEA, Swiss students
Will I need a VISA to study at the National Centre?

All prospective international students coming to study in the UK on or after 1 January 2021, including those from the EU, EEA and Switzerland, will need to apply for a Student visa and receive a decision before they arrive.

More information can be found on our Student Support section.
Do you allow late entry?

No. For parity's sake our deadline for applications and auditions cannot be moved.
Do you accept disabled candidates?

We welcome applications from disabled people and offer places solely on the basis of potential and suitability for a career in circus.

If you need access support for your audition please get in touch with Joanna on joanna@nationalcircus.org.uk and you can discuss what access you will need.
Do you consider deferred entry?

We would not usually but in exceptional circumstances we will consider it.
Are there any funding/scholarships?

The National Centre for Circus Arts, as part of the Conservatoire for Dance and Drama, offers scholarships and bursaries for students from low income backgrounds. Along with all the affiliate schools of the Conservatoire for Dance and Drama we are working to ensure that our courses remain accessible to all students and that we continue to recruit on the basis of talent alone. More information can be found on our Fees and Funding page.
Can I do a video audition?

If you are based outside of the UK or are unable to attend one of the scheduled audition dates, you can apply to audition fully via video once you have submitted your application form. Video audition requests will be based on individual circumstance. Our full video audition requirements and criteria can be found below.