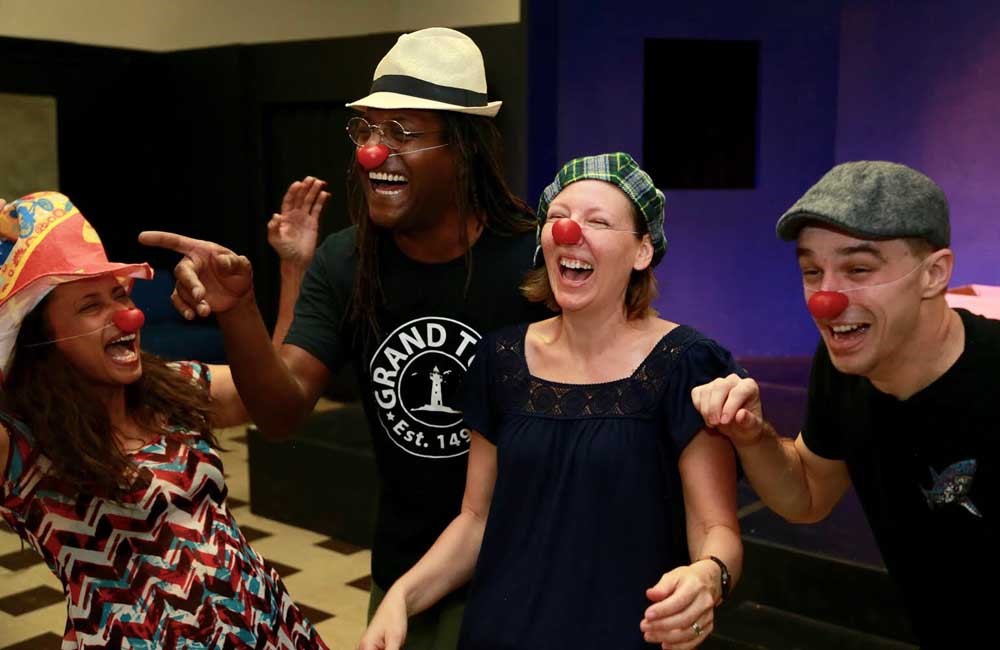 Celebrate your Ridiculousness!
About the Workshop
Date
8th – 9th Oct 2022
2-6 pm in the Link Studio
Cost
£100
£75 for Open Training Members (concession rate)
Maximum number participants
16 people.
Workshop Description 
2 Days of Clown and Play with Shannan Calcutt
Calling all actors, acrobats, athletes, improvisers, musicians, comedians, idiots, artists, humans! Do you want to take greater risks? Play in the moment? Laugh yourself silly? This workshop is for you! Come Make a Fool of Yourself – and Enjoy it!
Biography
A multi-award winning performer and instructor, Shannan Calcutt she has conducted workshops in clown and play worldwide. She's a regular instructor at Cirque du Soleil, Celebration Barn Theater and Vegas Theatre Hub. Calcutt has played an eclectic range of venues from the Sydney Opera House, to San Francisco's Bimbo's 365 Club, to the Vegas Strip, where she performed her breast implant routine, Scotch Baggies, for millions of spectators at Cirque du Soleil's, Zumanity. She's featured in the book Clowns: In Conversation with Modern Masters, a groundbreaking collection of conversations with 30 of the greatest clowns on earth. She has designed comic acts for Cirque du Soleil, Spiegelworld, the philanthropic event One Night for One Drop, and Berlin's Friedrichstadt-Palast, the world's biggest theatre stage. Most recently, Shannan joined the cast of Spiegelworld's Atomic Saloon Show at the Venetian in Las Vegas. Shannan has a Master of Fine Arts in Writing for Dramatic Media (UNLV), a Bachelor of Fine Arts in Performance (UVIC) and is a graduate of the Dell'Arte International School of Physical Theatre. She is fluent in English and sarcasm. More about Shannan here: shannancalcutt.com
More information
In this workshop, you will:
Flaunt your flaws
Take big risks
Follow your impulses
Reveal your vulnerability
Laugh in failure's face
Improvise from your heart
Connect with your audience
Experience the power of the ensemble
Live in the moment
Explore the wonderful world of play
Say YES to each others dumb ideas
Make each other look good
Who the workshop is for and the participant requirements: 
Open to all brave souls willing to take the plunge into the world of play! Please dress in clothes you're comfortable moving in and bring a bottle of water.
Booking Information
For booking the two days masterclass, please book below.
You will need to book just for the first day but you will have access to the full two days masterclass.
Even if the process for booking will show the full price, once you log in it will automatically give you the concession rate if you are an open training member.