Jerwood Circus Residencies 2022
Jerwood Circus Residencies is an initiative to support early-career circus practitioners in the development of performance-based projects. Its aims are to enrich and develop the artform of circus; to reach new audiences; to expand the creative practice of the artists; and to benefit artists with marginalised identities. The Jerwood Circus Residencies are supported by Jerwood Arts.
The selected artists for the residencies in 2022 are:
Hannah Finn                       Chochma חוכמה
Laura Murphy                     A Spectacle of herself
Rebecca Youssefi               Traces
Tilly Lee-Kronick                There are no empty doorways  
The four selected artists will receive a grant of between £2,750 and £3,000, mentoring, technical support and space in our Creation Studio to undertake 7 days of research & development between May and October 2022.
Hannah Finn - Chokmah חוכמה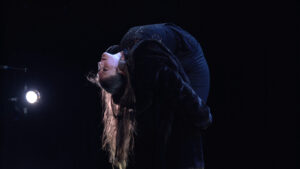 About Hannah
Hannah is a Jewish contortionist known for her fluid performance blending dance, physical theatre, and contortion, and creating autobiographical work that addresses her intersectingidentities. She draws on themes of feminism, her experiences of antisemitism and the multifaceted layers of being neurodiverse as stimuli.
Hannah stands out with her high-level contortion, often performing on her one of a kind spinning cube, and blending contortion with breakdance elements. She also performs the rare "Marinelli Bend" skill. Hannah has trained under acclaimed artists and performs with a variety of contemporary dance, circus and theatre companies.
 The Project
A circus-instilled performance of memories and survival fusing contortion, verbatim text, spoken word, physical theatre and contemporary dance.
Chochma חוכמה means wisdom in Hebrew. It speaks to the intuition and wisdom of Hannah Finn's great-grandmother, who fled Poland just before the Holocaust, and her mother's decision to leave an abusive relationship.
This project is a solo autobiographical show where Hannah draws upon her lived experience of hidden disabilities.
Each story is told with a distinct movement quality and weaved together by the feral, untamed wild woman archetype from Women Who Run with the Wolves by Clarissa Pinkola Estes.
Photo Credit: Chris Welch
Laura Murphy - A Spectacle of herself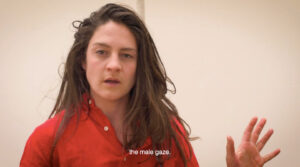 About Laura
Laura Murphy is a genre-defying queer performance maker from Bristol, who makes text-driven and dynamic physical performance about things that she thinks needs to be talked about. Challenging, intimate and spectacular, her work is a cross-disciplinary fusion of theatre, live art, aerial choreography, dance and verbal explosions. Recent collaborators include Terry O'Connor, Scottee & Friends and Peaches.
Laura holds a PhD in Aerial work as critical practice from the University of Sheffield and her debut solo Contra, a fierce & poignant feminist solo show directed by Ursula Martinez, was one of the first UK projects to be selected by the European circus platform Circusnext. It has since toured to 12 countries, in 3 languages, gaining Laura international recognition for innovation in circus making.
The Project
A Spectacle of Herself will use a queer, feminist lens to delve deeper into the relationship between the self & subject, exploring the imposition of wider historical & socio-political narratives onto the 'performing' body. The work will play with performative layers, drawing on autobiography, lip-sync, film, captioned text & aerial-rope to stretch between the personal & political, engaging in & drawing attention to a process of commodification, exploitation, foolishness, beauty & obscenity.
Continuing my critical approach to aerial choreography, I will use the Jerwood Circus Residency to explore video & captioning. This will be an opportunity not only to embed accessibility, but to expand the potential of my discipline through interaction with an intertextual and cinematic landscape – putting the consideration of gaze at the fore front and layering and annotating the body, connecting it to external objects, concepts & structures.
Photo Credit: Holly Black
Rebecca Youssefi - Traces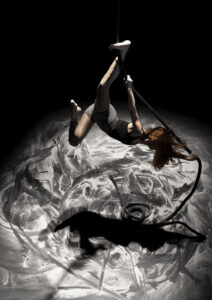 About Rebecca
Rebecca Youssefi is a multidisciplinary artist based in London and Hastings. Working across the mediums of live movement, moving image, installation, drawing and painting, her process is highly experimental. Previously an artist who made oil paintings on canvas, Rebecca began doing aerial dance ten years ago and has spent the past few years merging the different practices, while completing a MA in fine art at University for the Creative Arts. Traces 1 was performed at the Kristin Hjellegjerde Gallery, London in 2019, Traces 2 at the Gulbenkian Arts Centre, Canterbury in 2020 and Traces 3 at the Baker Mamonova Gallery, St Leonards-on-Sea in 2021.
The Project
Traces is an interdisciplinary drawing process, combining aerial dance and fine art. Rebecca performs on aerial rope, using the tail of the rope to create an ephemeral drawing on the floor with powder or pigment. Originating from experience of recovery from trauma, the work explores themes of transformation, presence, embodied self, and embraces metamorphosis and restoration through destruction and creation. Traces is an ongoing series that will continue to evolve over time, like a series of drawings that an artist might create, with similarities, but each unique.
Photo Credit: Indiana Hamilton-Brown
Tilly Lee-Kronick - There are no empty doorways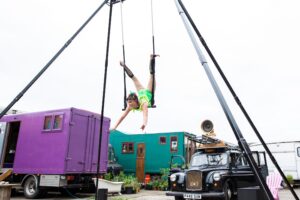 About Tilly
Tilly completed her degree at Circomedia in 2017, specialising in static trapeze and physical theatre, striving to integrate her previous theatrical and dance experience with her new-found love of trapeze to create unique aerial work. She has performed her solo show Ripe across the UK as part of a rural tour Circus Around and About with Crying Out Loud and was selected as a highlight of Resolutions 2018 Festival. She has worked for Stumble Dance Circus, Extraordinary Bodies, Cirque Bijou, Rosemary Lee dance, Stacked Wonky Dance Theatre, Full Tilt Aerial Dance, and played the principle role in Metta Theatre's Little Mermaid.
The Project
Tilly has been awarded the Jerwood Circus residency for the development of her new solo show There are No Empty Doorways (working title). This show will be using aerial, text, live music and dance. Originally inspired by a short story by writer and former aerialist Matilda Leyser, Tilly will be playing an angel-like creature living in her dining room doorway, in order to tell her own story of living with an eating disorder.
Photo Credit: Paul Blakemore

Jerwood Arts is the leading independent funder dedicated to supporting UK artists, curators and producers to develop and thrive. We enable transformative opportunities for individuals across art forms, supporting imaginative awards, bursaries, fellowships, projects, programmes and commissions. We are committed to supporting artistic freedom of expression and being as inclusive as possible across all our work. We present new work and bring people from across the arts together through our exhibitions and events at Jerwood Space, London, as well as across the UK and online. jerwoodarts.org