Adam Havsky and Dani Mearns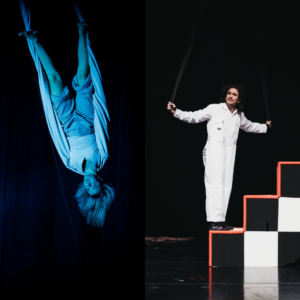 Adam Havsky is a third year Circus student from National Centre for Circus Arts specialising in aerial straps. He comes all the way from America. He has a background in yoga and trampoline and he loves to hog the spotlight. Dani Mearns is a recent graduate from the National Centre for Circus Arts who is specialising in aerial straps. She comes all the way from a few train stops away. She has a background in martial arts and aerial hoop and very much would like to be in the spotlight. Together they have formed an aerial straps duo, but neither is willing to let the other take the glory.
Ash Meyers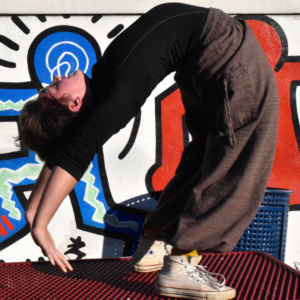 Ash Meyer is a non-binary circus artist in their BA year at the National Centre. They trained circus around the United States for four years before moving to London. They study Cyr wheel, but also have a background in aerial, acrobatics, and contortion. This piece is a fun escape from their reality and hopefully yours.
Becky Robins and Helga Ehrenbusch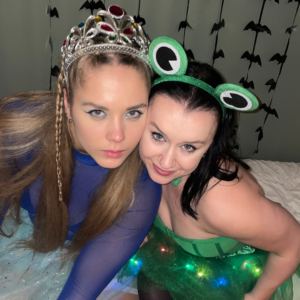 Becky (Hand balancer) and Helga (Acro Dancer) are BA students at the National Centre. Their piece is about a feeling they both know all too well… hangiexty. What happened last night? Wtf? What is this bruise? Please tell me I didn't say that! How about that time Becky woke up with a head injury and found out Helga went for a hug only to rugby tackle her to the floor… into a car. Or the time Helga was rolling around the ground and Becky lovingly helped her up… to give her more shots. Anyways, bring on next weekend 😉
Ellen James and Sophie Stinchon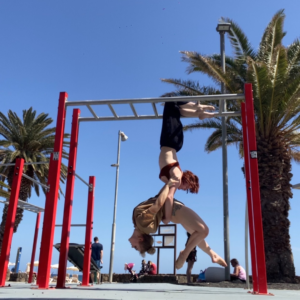 Sophie and Ellen are a multidisciplinary duo from London. They are in their BA year at the National Centre for circus arts and are specialising in hoops and aerial rope. They will be performing a combination of straps and hair hanging.
Erin Williams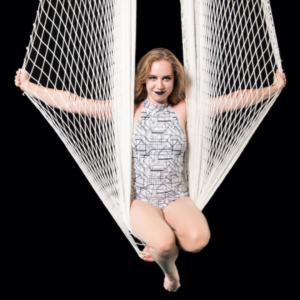 Jack Brooke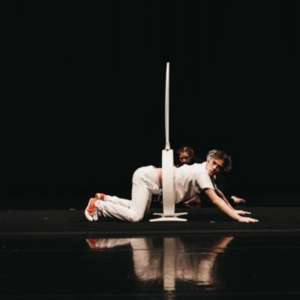 Jack is a hoop diver and acrobat currently studying in his final year. Before coming to the National Centre he trained as a sports acro gymnast for 18 years. He decided he wanted to carry on with acrobatics and become a performer. He likes to take inspiration from film and TV to make fun and nostalgic pieces that will make people laugh and leave with a smile on their face.
Judit Feher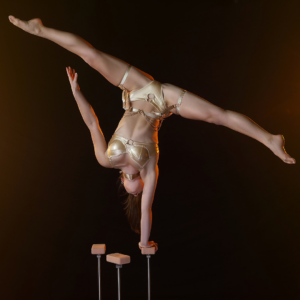 Judit is a circus artist specialising in the discipline of hand balance. She is originally from Hungary and is currently completing her final year at the National Centre. She loves experimenting with comedy and draws inspiration from burlesque and metal music. Her new act is inspired by one of her favourite cult classic scenes from the movie From Dusk til Dawn.
Kasyema Mullinge and Ebony Gumbs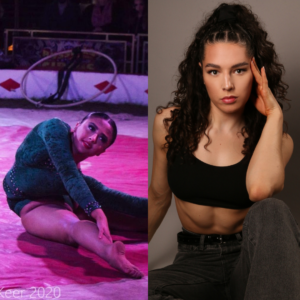 Both Ebony and Jazz are specialising in Aerial hoop at the National Centre. Ebony has a background in artistic gymnastics, dance and cheerleading. Kazz has come from a dance and circus background involving mainly contortion. For the last two years they have been trained in aerial hoop as solo artists and are joining forces to create a spectacle from the stimulus; dance battle music mashup.
Laura Hogg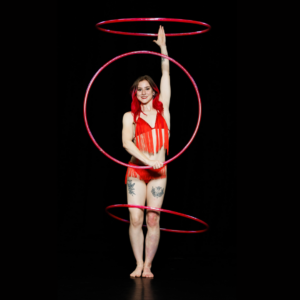 Laura has been spinning hula hoops for four years now and has grown so much, from trying waist hoop during the first covid-19 lockdown to splitting six hoops on her body. She is currently studying at her BA year at the National Centre. Laura brings excitement to the stage and through her love of upbeat music and unique dance practitioners like Bob Fosse. Laura is a classy performer and wants nothing more than to give the audience a good time and feel the fun she's experiencing. 
Lola Latham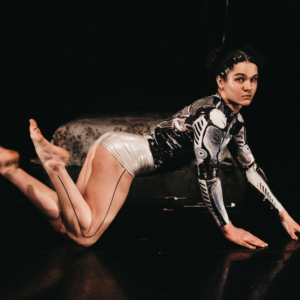 Lola is a multidisciplinary artist who is in her 3rd year of studies at the National Centre. They are currently specialising in aerial pole but also has training in aerial hoop, hand 2 hand, tumbling, acro dance, contortion, fire & HANDSTANDS! Lola's artistry can be described as shocking, taboo and fierce. Be prepared to feel SINFUL as she BLESSES you with her feminine charm & HOLY hand balancing abilities!
Madeleine Fuller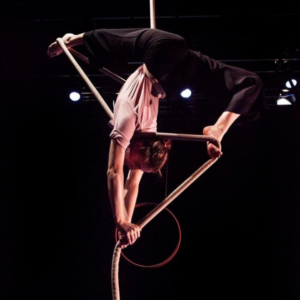 Madeleine Fuller is an aerialist and circus performer specialising in rope. She is strong, dynamic and loves to explore unconventional pathways and shapes. Originally starting circus in Newcastle, she is now studying a BA at the National Centre. This act is an exploration of stick insects, big cats and lava lamps.
Nora Linjawy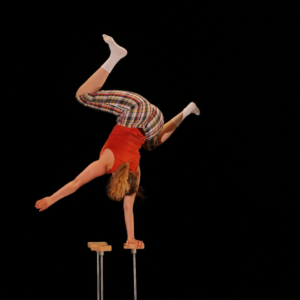 Nora is currently in her 3rd and final year of circus school, specialising in hand balancing. She was born and raised in Saudi Arabia and after completing her Masters degree in Nutrition in the UK, she decided to run away and join the circus! With no professional training prior to joining the National Centre, her extreme determination and drive took her to where she is today. For her acts, she likes to edit different sounds and music together to create a fun and comedic performance. 
Phoebe Bryan and Niamh Taylor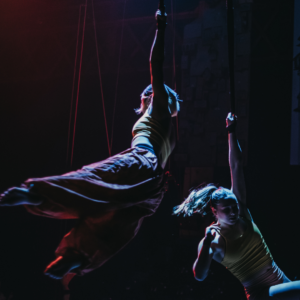 Phoebe and Niamh are both studying in their 3rd year of BA year at the National Centre. Both are specialising in aerials straps and train together independently and as a duo. Previously Niamh was an artistic gymnast, boasting a high level of gymnastics and acrobatic skills. Competing across the country and training internationally up until she was 20. She has a small background in dance, further developed through her gymnastics. Phoebe studied on the BTEC in Circus Arts, at Circomedia, for 2 years prior to the National Centre. Training mostly in straps, handstands, hula hooping and many disciplines. Phoebe also has a background in dance and a foundation of gymnastics training. The two are, coming together to create a strong female spy act, breaking the stigma of dainty female spies or sexy sidekicks, instead how women can be bad-ass man characters!
Tess Stockwell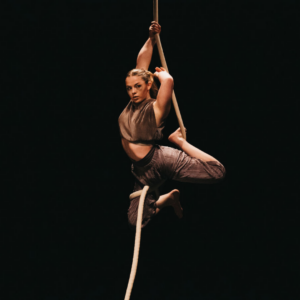 Tessa is a circus artist originally from Newcastle, in her BA year at the National Centre. She specialises in rope, but has performed a range of aerial disciples as well as acro. After a LONG year, her intention for her act is to find moments of joy on her rope and to relish the feeling of performance and moving.