Vertical Dance Technique with Lindsey Butcher
About the Workshop
Following a short warm-up, we'll then check in on correct use and understanding of the rigging we use (single point climbing harness and climbing equipment).
On the wall we'll begin by investigating the foundations of Vertical Dance technique, moving through basic orientation and vocabulary before working towards finding more complex sequencing and challenging explorations to find your dance on the wall.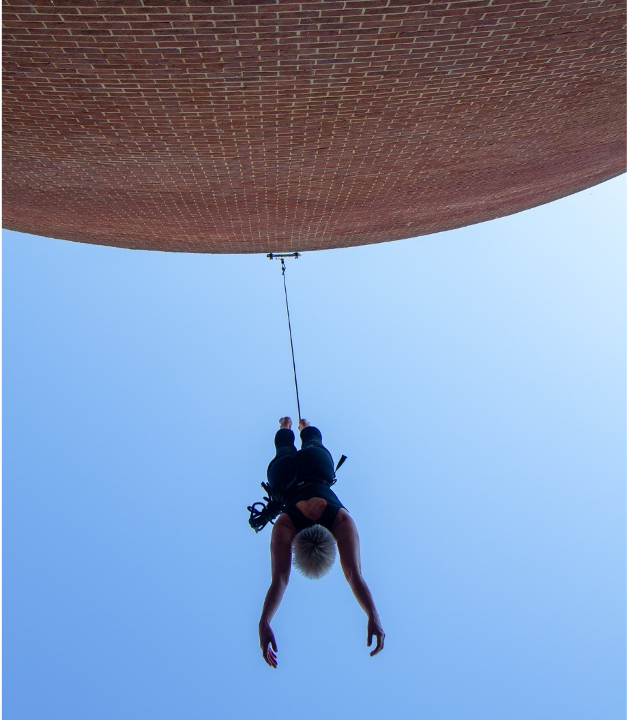 About Lindsey Butcher
Since graduating from London Contemporary, Lindsey has worked with numerous dance, theatre, circus and opera companies as a dancer, aerialist, teacher, mentor and choreographer.
As a dance and aerial practitioner, she has over 38 years of professional practice and remains very active as a performer, choreographer, teacher and mentor.
In 2003, (after winning the Jerwood Award for Circus) Lindsey founded the aerial dance company Gravity & Levity to provide a vehicle for her artistic vision.
Much of Lindsey's aerial choreographic work over the last 15+ years has been 'building based' vertical dance commissions, a discipline in which she specializes and she teaches master classes in the UK and Internationally: France, Ireland, Italy, Portugal, Canada, Panama and Brazil.
She is also a founder member of the Vertical Dance Forum, a transnational group who received Creative Europe funding to disseminate this practice and support the development of the art form.
Photo: Mark Morreau
More Information
Who is it for
The vertical dance technique class assumes some previous experience of working in single point harness and of using a belay device (grigris, rig or similar) and of climbing using an ascender.
Pre-requisites for attending:
You should be confident and have some experience in demonstrating:
Plank positions on different planes
Finding your balance point on feet or hands under the rigging point
Jumping away and returning to the wall – with control!
Some experience of rotations (basic forward & back somys) and cartwheels on the wall.
NB None of these have to be perfect!
Date
Sun 3rd December 2023 | 14:00-18:00
Cost
£50 | £40 for Open Training Members (concession rate)
Maximum number of participants
9
What to bring
Please wear multiple snug layers around your hips and waist for your comfort. Long sleeved t-shirts are also handy for some moves. We usually work barefoot but you may also want to bring slim soled plimsolls for the wall and/or socks depending on the floor.
If you have a climbing harness you prefer and any kit (gri-gris, rigs, karabiners etc.), please bring them with you.
Booking
For booking the masterclass, please click below.
If you wish to attend both workshops, you will need to book separately for each day.
If you are an open training member, only once you login, will you be given the concession rate.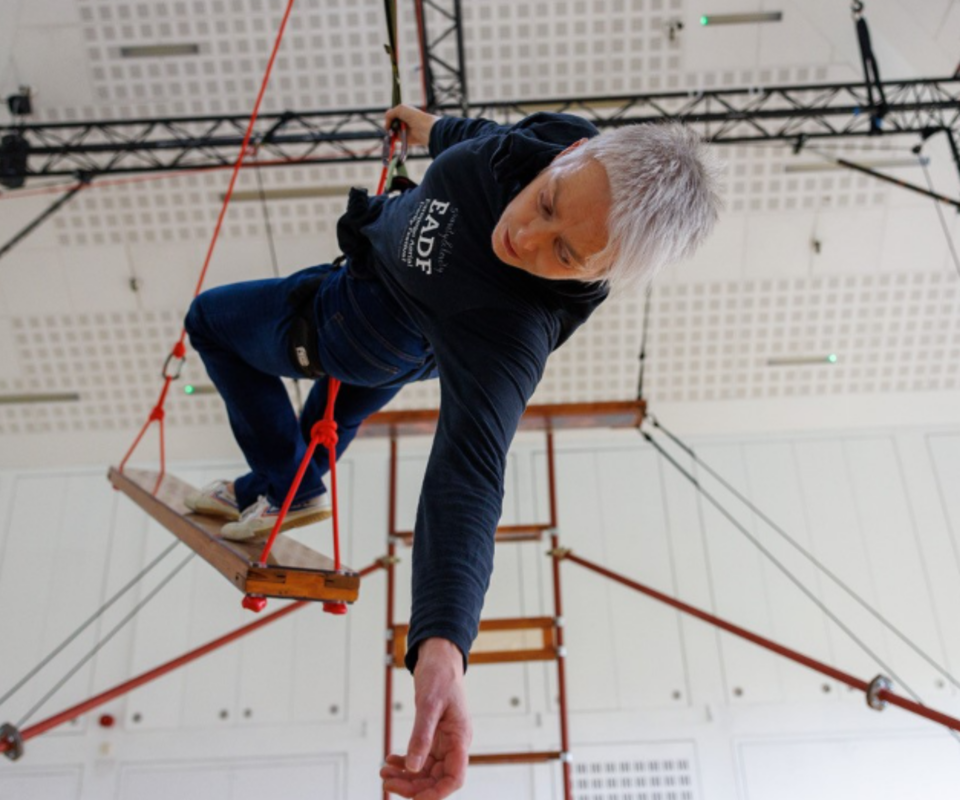 Aerial Dance Harness
2pm-6pm | Saturday 2 December | Low fly - all levels
Harness workshops for intelligent bodies and curious minds with Lindsey Butcher