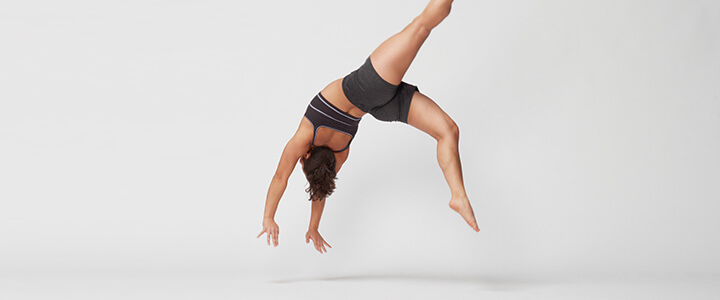 COURSE TERM

September-December

PRICE

£8.50 drop-in


WHEN

Friday 7.15-8.45pm
Sunday 2.00pm - 4.00pm
Flying Trapeze: Friday 7.45-8.45pm

Book

Please call reception on 020 7613 4141 to book Supervised Practice Time.
About Practice Time
Practice Time supplements formal class training, and helps students to achieve their potential. It enables participants currently enrolled on level 2 or 3 courses to spend time on equipment outside of classes, which can be used to consolidate skills, build up more strength, and become more comfortable with the equipment or work on devising acts.
Who it's for
Those currently taking a level 2 or 3 course wishing to practice and perfect techniques and moves already learned in class.
Participants need to arrive for the practice session at the start time and are then free to stay and train for as long as the want up until the end of the session time.
If no participants have arrived within the first 30 mins we will not run the session.
*We are unable to guarantee there will be static trapeze's available for use on Sundays. Please contact Participation if you have any questions: participation@nationalcircus.org.uk
NEW L3 Fly Friday Supervised Practice Time
We are pleased to announce our new practice time for Level 3 Fly. Please see information below for more details.
In order for the session to be able to run we require a minimum of two participants booked in to attend the session.
You will only be able to attend this Practice time session if you are currently attending Level 3 Fly with us and have been signed off by one of our advanced Fly teachers.
This session you will not have access to a lunge therefore you must only practice moves you're comfortable and confident with performing off lunge lines. This is not the opportunity to try anything new.
Bookings must be made in advance. If we do not have enough bookings by 1pm to run the session that day we will cancel the session and anyone already booked on will be informed and refunded.
Like our other Practice Time sessions, participants must arrive within the first 30 mins. If no one has turned up for the practice time within the first 30 minutes the session will not run.
More information
Term dates
Term 3
17 April – 16 July 2023
Half-term: 29 May – 04 June
Please note there are no class on 01 & 08 May.
NOTICE- No session on Sunday 25th June & 2nd July.
Further information
This session would not be suitable for anyone at our beginner level. Please ensure that you are currently signed off by our teachers to take part in classes at this discipline level. If you do not have sign-off for this course you will not be able to take part.
Booking
Please call reception on 020 7613 4141 to book Supervised Practice Time.